Messages On Hold and the Importance of On Hold Marketing
It's inevitable. During any business day, callers are placed on hold. If you compare each call as a visit through your front door, you want to treat each caller to the best experience possible. This is why a good telephone on hold program is important. Turning hold time into a pleasurable transition keeps callers engaged, and gives you an opportunity to upsell, tell callers how important they are to your business, and gives callers a positive impression…encouraging them to remain on the line and not move on to your competition.
Hold time varies across industries. Remember, everyone is busy and callers sitting on hold are eager to move along. With silence on hold, wait time seems much longer…but custom messages with hold music can make a 1 minute wait seem only half that long.
IAP knows the importance of On Hold Marketing. We've been in this business for more than 30 years, have experience with all types of industries, and know how to create specific niche B-to-B productions.
Our professionals have been delivering high quality audio services since 1986 and can show you how to create an effective custom message that builds, upsells, cross-promotes, and more…all positive ways to support your business and brand.
The steps to a good on hold begin here. We'll handle all the creative aspects including script writing, licensed telephone music, and a seriously talented stable of male and female voice talents. Need to convey messages on hold in a language other than English? No problem. IAP has access to a wide variety of languages and dialects.
After you provide a few details about your business, we develop a script for your approval. You can pick your own voices and hold music and, with approved copy, deliver a crisp, clear custom message in the right format for your phone system.
Begin today. We're ready to help get you started.
4 Easy Steps to Begin
*STEP 1: Fill out a quick and easy questionnaire, then e-mail it to us. We'll write a custom script based on the info you provide. Our writers are highly experienced at creating a professional phone message, written specifically for the messages on hold format. We'll take your answers and transform them into attention-grabbing, inspiring custom messages that get results! We work with many industries and know how to appeal to your callers in the spoken word.
*STEP 2: Choose a voice. Listen to the voice demos on our website. We have an excellent selection of male and female voices. Professional and versatile, our voice artists know how to appeal to all demographics, young and old. Need a special accent? Kid's voice? What about messages on hold in a foreign language? IAP has you covered.
*STEP 3: Select music. You'll find many music choices on our website. Easy Listening, Jazz, Oldies, Classical, Country, Rock…we have all kinds of licensed, instrumental hold music. Every time you freshen your hold messages – whether monthly, bi-monthly, twice a year, or whatever your needs — you have the freedom to select new tracks/genres with every production. Your telephone music can also capture the holiday spirit when the time comes.
*STEP 4: Determine delivery format. Your telephone on hold message system will replay custom on hold message audio via MP3, wav file, from a USB drive, burned to CD, even mixed to tape.
On Hold Players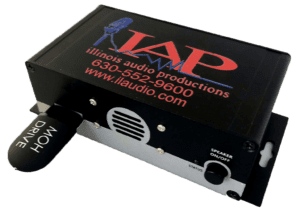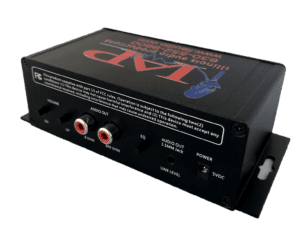 IAPUSB
The IAPUSB professional on-hold digital audio player is state of the art. Industrial designed extruded aluminum case for many years of service. Carefully selected electronics for great digital sound quality.  Auto Restart feature in the event of a power failure, no loss of your audio files on supplied USB drive. Stored audio files play in alphanumeric order based on filenames. The IAPUSB carries a 2 year manufacturer's warranty on parts and labor.
IAPRemote
The IAPRemote digital audio player allows message on hold updates without having to be on location. Using a LAN connection and our online web portal, IAP can send updates to the IAPRemote without clients having to lift a finger. IAPRemote also allows for scheduling, so special promotions, holiday recordings, event messaging can start and stop exactly when you want. The IAPRemote comes with a 2 year Manufacturer's warranty.
The IAPStream uses an internet-based platform to deliver commercial free music to your business. Users can simply scan a QR code and use an app on their smartphone to adjust the volume, change channel or trigger an announcement.
Subscribers have access to more than 70 commercial free music channels in numerous genres. You can simply play only the music or have customizable messages play at specific times and days.
On Hold FAQ
Do you have questions? IAP has answers. There's a strong chance you'll find what you're looking for here among our most Frequently Asked Questions (FAQs).
1. I don't keep callers holding long. Why do I need Messages-On-Hold?
Even short hold times can be useful. And depending on your MOH playback unit or phone system, callers often join audio in progress. IAP can help you turn short hold time into a positive experience–a vast improvement over silence that leaves callers feeling abandoned. Keeping messages fresh also keeps callers tuned in and willing to hold the line until you can get to their call.
2. Who writes my On-Hold Messages?
We can write your first and EVERY script from scratch. Or, we're glad to adapt your already established marketing into the scripting. Either way, you always get final approval on the copy.
3. How long does the process take from start to finish?
Typically, our average turnaround time is approximately 4 business days. From the initial writing to voicing, post-production, and delivery of your MOH recording, you don't have to wait long. Of course, that time can vary depending on voice selection and changes made to copy prior to final approval for voicing.
4. How often should I change my recordings?
This largely depends on your frequency of repeat callers. If frequent callers/customers become too acquainted with the same messages, they can tune out. Those who update marketing and offer new promotions every month should consider changing hold messages to help cross-promote. If content does not change much, at least consider refreshing the copy, voice, and music two to four times a year.
5. Why type of voice should I choose for my production?
Female voices are chosen slightly more often, but the most important determination is using the voice that best matches your image—Strong, Soft, Upbeat, Serious, Conversational, Instructional?  Plus, you have the option for both male AND female voices to alternate messages in your MOH production. This is a way to keep callers attentive and listening to the vital points of your message.
6. Why can't I play music I already bought from I-tunes, Amazon, Pandora, or other streaming sources?
Good question. Fact is, material played on hold is considered a rebroadcast and must be licensed. Unlicensed rebroadcast, including radio, can be subject to costly fines from agencies like ASCAP, SESAC, and BMI. When you're contracted with IAP, you never have to worry about those fines because our music library is fully licensed for on hold, commercials, and overhead/background use.
7. Can all phones have Messages-On-Hold?
Practically any true business phone system is MOH compatible. Many have upgraded to VoIP (Voice-Over-Internet-Protocol) systems. If you're running a small/home business with just you and/or a couple of employees and plan to buy phones from a big box store, check with us in advance. We'll be glad to help and give advice. There may still be one or two models that are not MOH compatible.
8. Are the voices actual people?
Yes! We only use trained, experienced, and highly talented voice actors, well-respected in the voiceover industry.
9. Is loading audio going to be a hassle for me? Or does IAP load it for me?
MOH is easy to apply to your business and loading your completed MOH audio depends on your playback unit. Remote units allow us to take care of all the loading for you. Other playback units may need you to load a simple MP3 onto a flash drive or media like a tape or CD…fast, easy, and trouble-free. We're always here to help.
10. How many seconds are best between messages?
We recommend keeping music between "spots" at 10 seconds or less. Hold times are generally shorter than in the past thanks to cell phone use…messages spread out more than 10 seconds apart can get lost.
11. How long is the typical Messages-On-Hold script and how many messages does it contain?
Typically, our scripts average 8 messages per recording, around 500 words in total.
12. How often do you suggest changing On-Hold messages and why?
Every operation should change their MOH audio at least once a year, as well as the holidays if so inclined. Banks, park districts, restaurants, and car dealerships are all great candidates for Monthly MOH changes to correspond with other marketing. For veterinarians, dentists, doctors, and HVAC specialists, Quarterly changes seasonally are recommended.
13. How do I know if my phone system is adaptable to On-Hold Messaging? Do I need a special MOH machine?
Phone systems have changed considerably over the years and so has the technology in MOH Playback units. Once we know what specific system you're using, we'll be able to identify what you need.
14. Can you make suggestions about a good phone system?
Although we don't sell phones, we work with many vendors and can advise you about what is working well for other customers.
15. Many customers call on cell phones. Does this affect what I play on hold?
Yes. Cell phones are optimized for voice only, often cutting out music. This can be a little problematic during the music intervals between voiceovers. That's why we suggest keeping music intervals under 10 seconds.